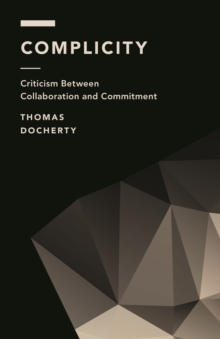 Complicity : Criticism Between Collaboration and Commitment
1786601028 / 9781786601025
Stock expected by 27/09/2021
151 x 229 mm, 236 grams 154 pages
Complicity argues that all existing modes of cultural critique are regarded as legitimate and productive if and only if they are complicit with the very ideologies and values that the criticism sets out to undermine.
Through philosophical, literary and theoretical analysis, Thomas Docherty shows how easy it has been for criticism to become essentially an act of political collaboration with existing governmental power.
The book explores the various ways in which, both historically and theoretically, critical activity has become complicit with the over-arching social and political norms that it aims to undermine.
Philosophically, ethically and politically, criticism's fundamental impulse is too often intrinsically negated.
In extreme political form, this places criticism in line with collaborationist activity.
Docherty then finds a productive way out of the double-bind in which criticism has traditionally found itself, through an idea of criticism as a mode of 'reserve', a mode of commitment that eschews fundamentalism of all kinds.
BIC:
HPS Social & political philosophy, JPA Political science & theory