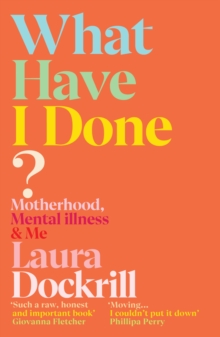 What have I done? : motherhood, mental illness & me
1529112540 / 9781529112542
General (US: Trade) Learn More
Professional & Vocational
Tertiary Education (US: College)
Reprint. Originally published: London: Square Peg, 2020.
'Such a raw, honest and important book' Giovanna FletcherLike any new mum, Laura Dockrill felt rather overwhelmed after the birth of her son.
But a slow recovery, sleep deprivation and anxiety quickly escalated into postpartum psychosis, and she had to spend a fortnight in a psych ward, separated from her family.
It was only when Laura began to put her ordeal into words that she began to find herself again, and recovery seemed within reach. This is Laura's raw, honest and life-affirming story of how she made it through one of the most frightening experiences a mother can face.
Now, she wants to break down the silence around postnatal mental health, shatter the idealised expectations of perfect motherhood, and show all new struggling parents that they are not alone. 'A book to save a whole generation of women' AdeleA pleasure to read...I didn't want to put it down.
If anyone is going through a similar experience it will make them feel less alone' Philippa Perry'A humbingly honest and human war report from the front lines of mothering psychosis and recovery; there is no other book like it' Caitlin Moran'An incredibly powerful book' Jessie Ware'This book will give women and their families confidence that the brain and body will heal' Dr Jessica Heron, CEO of Action on Postpartum Psychosis'An amazing read' Fiona Telford, postpartum psychosis survivor
BIC:
BM Memoirs, VFDW Women's health, VFJB Coping with illness & specific conditions, VFXB Pregnancy, birth & baby care