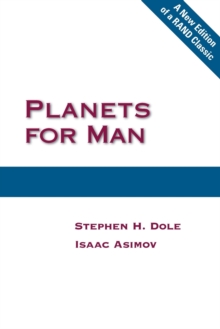 Planets for Man
0833042262 / 9780833042262
Stock expected by 14/12/2019
154 x 231 mm, 385 grams 254 pages
Professional & Vocational Learn More
Postgraduate, Research & Scholarly
Undergraduate
"Planets for Man" was written at the height of the space race, a few years before the first moon landing, when it was assumed that in the not-too-distant future human beings "will be able to travel the vast distances to other stars." The authors propose to determine - on the basis of then current biological and cosmological knowledge - whether there are other worlds where humans can survive or where human life may even now be flourishing.
This volume, co-authored by "RAND" researcher Stephen Dole and science fiction master Isaac Asimov, certainly one of the more unusual co-authorships in "RAND's" long history of research and publishing, it was based on a more technical treatise authored by Dole, "Habitable Planets for Man".
More than forty years after its initial publication, and to celebrate "RAND's" 60th Anniversary, "RAND" brings this classic work back into print in paperback and digital formats.
BIC: