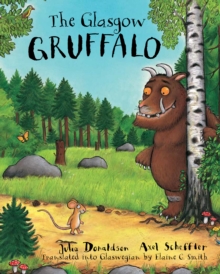 The Glasgow Gruffalo : The Gruffalo in Glaswegian
1785300598 / 9781785300592
"A gallus moose taen a dauner through a scary big wood.
A fox clocked the moose an the moose looked good." Moan intae the scary big wood an funnoot whit the score wiz, when the wee gallus moose squared uptae an auld owl, a sleekit snake an a ginormous gruffalo...Everybody loves The Gruffalo and now you can enjoy this children's classic for the very first time in Glaswegian!
Translated by Elaine C. Smith and published by Itchy Coo, this new edition of The Gruffalo will delight both children and adults alike. Julia Donaldson and Axel Scheffler's The Gruffalo has become a bestselling phenomenon across the world.
This award-winning rhyming story of a mouse and a monster is now a modern classic, and will enchant children for years to come.
BIC: