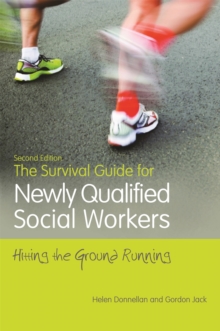 The Survival Guide for Newly Qualified Social Workers, Second Edition : Hitting the Ground Running (2 Revised edition)
1849055335 / 9781849055338
156 x 230 mm, 360 grams 248 pages
So, you've passed your degree and have started your first job.
But are you confident about translating the theory into practice?
Are you prepared to juggle the workload of a busy social worker?
Do you have a plan for your continuing professional development? This practical guide provides a wealth of suggestions to help you to hit the ground running in the early stages of your new career.
Fully revised and updated with the latest national frameworks for NQSWs, this survival guide provides a range of strategies for managing your time and workload, and offers suggestions for finding support, coping with stress and maintaining job satisfaction.
It addresses different ways of handling challenging and unfamiliar situations with colleagues, managers, other professionals and service users.
Each chapter concludes with a checklist of key points as a ready reference for practitioners preparing to face the daily challenges of their new professional status. This invaluable guide will be an essential support for all students, post-qualification and returning practitioners who need to make a smooth transition to practice and be successful in the workplace.
BIC: