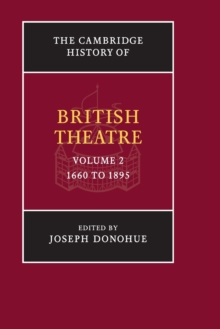 The Cambridge history of British theatreVolume 2,: 1660 to 1895
1107497086 / 9781107497085
Usually dispatched within 4 weeks
520 pages : illustrations (black and white)
Professional & Vocational Learn More
Postgraduate, Research & Scholarly
Undergraduate
Volume 2 of The Cambridge History of British Theatre begins in 1660 with the restoration of King Charles II to the throne and the reestablishment of the professional theatre, interdicted since 1642, and follows the far-reaching development of the form over two centuries and more to 1895.
Descriptions of the theatres, actors and actresses, acting companies, dramatists and dramatic genres over the period are augmented by accounts of the audiences, politics and morality, scenography, provincial theatre, theatrical legislation, the long-drawn-out competition of major and minor theatres, and the ultimate revocation of the theatrical monopoly of Drury Lane and Covent Garden, initiating a new era.
Chapters on two representative years, 1776 and 1895, are complemented by chapters on two phenomenal productions, The Beggar's Opera and The Bells, as well as by studies of popular theatre, including music hall, sexuality on the Victorian stage and other social and cultural contexts.
BIC: