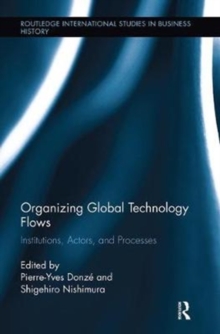 Organizing global technology flows : institutions, actors, and processes
1138339911 / 9781138339910
23 cm 266 pages : illustrations (black and white)
Postgraduate, Research & Scholarly Learn More
Undergraduate
Research on the international transfer of technology in economics and management literature has primarily focused on the role of countries and that of companies, in particular multinational enterprises (MNEs).
Similarly, economic and business historians have tended to view international technology transfer as a way for economically 'backward' countries to acquire new technologies in order to catch up with more developed economies.
This volume provides a more in-depth understanding of how the international transfer of technologies is organized and, in particular, challenges the core-periphery model that is still dominant in the extant literature.
By looking beyond national systems of innovation, and statistics on foreign trade, patent registration and foreign direct investment, the book sheds more light on the variety of actors involved in the transfer process (including engineers, entrepreneurs, governments, public bodies, firms, etc.) and on how they make use of a broad set of national and international institutions facilitating technology transfer.
Put differently, the volume offers a better understanding of the complexity of global technology flows by examining the role and actions of the different actors involved.
By bringing together a number of original case studies covering many different countries over the period from the late 19th to the 21st century, the book demonstrates how technology is being transferred through complex processes, involving a variety of actors from several countries using the national and international institutional frameworks.
BIC:
KJK International business, KJMV3 Knowledge management, KJMV6 Research & development management