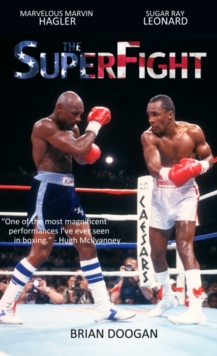 The SuperFight : Marvelous Marvin Hagler - Sugar Ray Leonard
1838133704 / 9781838133702
153 x 234 mm 288 pages, Colour plate sections 2 X 8pp
Two of the most prominent and celebrated athletes in the world, Marvelous Marvin Hagler and Sugar Ray Leonard came together to contest the $100million SuperFight on April 6, 1987 at Caesars Palace in Las Vegas. From Frank Sinatra to U2, Joan Collins to Whoopi Goldberg, the stars were drawn to ringside by the huge box-office appeal of the blue-collar, dominant world middleweight champion facing his nemesis, the charismatic and flamboyant Sugar Ray, who was coming out of virtually five years of retirement. Drawing on his deep reservoir of nerve, outstanding technique and a strategy which Budd Schulberg - who provided Marlon Brando with the immortal line, 'I coulda been a contender' - called a compound optical illusion, Leonard won on points.
It was boxing's greatest comeback, but to this day the judges' decision remains bitterly contested and not merely by the protagonists. But the story of The SuperFight is much more than the story of the fight, for it details two remarkable lives, the demons that drove both men and the formidable challenges they overcame inside and outside the ring. Hagler grew up in the Newark, New Jersey ghetto of Central Ward, where a riot/rebellion rooted in racism claimed the lives of 26 people, injured 1,000 more and, to the young teenager, was "like the end of the world".
Fuelled by anger, he climbed to the top of his domain and ruled for seven years as champion, one of the most accomplished in boxing's annals. Leonard was an Olympic gold medallist and all-American hero whose career was cut short by a detached retina after he became the world welterweight king.
He was Muhammad Ali's gifted and anointed successor but he succumbed to alcohol and drug abuse and for years was tormented by a secret - the sexual abuse he endured as an amateur boxer by a trusted coach. As provocative and polarising in its own way as Ali's defining rivalry with Joe Frazier, this is the story of The SuperFight, of Marvin Hagler and Ray Leonard and a fierce fire that still burns.
BIC: