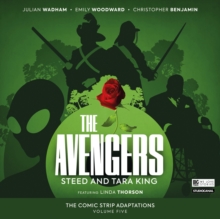 The Avengers: The Comic Strip Adaptations Volume 5 - Steed and Tara King
1787037509 / 9781787037502
Based on the adventures of Steed and Tara King in the TV Comic strips, this full cast audio drama contains four adventures:5.1 Whatever Next? by John Dorney. After an eccentric scientist correctly predicts an imminent asteroid collision, John Steed and Tara King are dispatched to uncover the basis of his precognitive powers.
The answer is stranger than they could possibly have expected.5.2 How Does Your Garden Grow? by Dan Starkey. When the plants around an Air Force base grow to prodigious proportions over-night, an explanation is required.
The trail leads to an out of the way farm and a potential scientificbreak-through - but there might just be a snake in the grass.... 5.3 A Very Civil War by Roland Moore. Steed and King are summoned to investigate a most unusual robbery - where the robbers don't seem to have been interested in taking the money.
How does the mystery tie in to a local Civil War reenactment society? 5.4 Mother's Day by Sarah Grochala. Mother has been called back to his Alma mater to present the school prizes - but someone doesn't want him to survive the ceremony.
It's down to Steed and King to go undercover and stop the assassins from spoiling the day.
Cast: Julian Wadham (John Steed), Emily Woodward (Tara King), Christopher Benjamin (Mother), Louisa Clein (Natalia/Grawling/Corporal Bell), Linda Thorson (Tatiana/Gertrude), Mina Anwar (Ada Johnson), Timothy Bentinck (Group Captain Carstairs/Amos Johnson), Samuel Clemens (Estate Agent), Nicholas Day (Crispin Pennington-Smythe), Jacob Dudman(Oswald 1/Oswald 2 (Percy)/Oswald 3 (Graham)), Clive Hayward (Plantagenet Jones/Ransome), Glen McCready (Fitzgibbon/Tanner/Dr Stuart), Greg Patmore (Lenny Snade/Robertson), John Scougall (Grimley/Wormwood), Dan Starkey (Brodny/Thrum), Robert Whitelock (Sir Cedric Cramp).
Other parts played by members of the cast.
BIC: