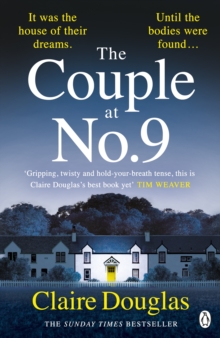 10 Skelton Place
1405943408 / 9781405943406
It was the house of their dreams. Until the bodies were found . . . THE HEART-POUNDING NEW NOVEL FROM SUNDAY TIMES BESTSELLING AUTHOR, CLAIRE DOUGLAS'A well-plotted tale . . . Intriguing. Twisty. Surprising. Touching' DOROTHY KOOMSON'Secrets, skeletons, mothers and daughters - and some absolutely corking twists!
A cracking thriller, I loved it' EVE CHASE_________BODIES FOUND UNDER PATIOWhen pregnant Saffron Cutler moves into 9 Skelton Place with boyfriend Tom and sets about renovations, the last thing she expects is builders uncovering a body.
Two bodies, in fact. POLICE INVESTIGATEForensics indicate the bodies have been buried at least thirty years, which leads the police to question the cottage's former owner - Saffy's grandmother, Rose. OWNER QUESTIONEDRose's Alzheimer's means her memory is increasingly confused.
She can't help the police - but it is clear she remembers something. A KILLER AT LARGE?As Rose's fragmented memories resurface, and the police dig ever deeper, Saffy fears she and the cottage are being watched . . . What happened thirty years ago?What part did her grandmother play?And is Saffy now in danger? . . . _________'This book has everything I love: murder, a taut and fiendishly clever plot and nail-biting tension' EMMA CURTIS'Combines a tight, gripping, plot and truly shocking twist, with beautiful writing and emotion.
A thriller with a heart' NUALA ELLWOOD'A darkly absorbing mystery' CRIME MONTHLY'Twisty, nail-biting, and utterly absorbing, you won't be able to put The Couple at No. 9 down' LOUISE O'NEILL'Expansive, emotional, with one of the very best end twists I've ever read.
Douglas at her heart-stopping best' GILLIAN MCALLISTER'The perfect gripping holiday read' LESLEY PEARSEPraise for Claire Douglas'Few people do psychological thrillers as claustrophobic and as creepy as Claire Douglas' Tim Weaver, bestselling author of No One Home'Thrillingly tense and twisty' B.
A. Paris, bestselling author of Behind Closed Doors'Stunning . . . with a killer twist' Closer'Perfect for fans of The Girl on the Train' Marie Claire 'Twisty, exciting yet so very real' Gillian McAllister, bestselling author of Anything You Do Say
BIC: