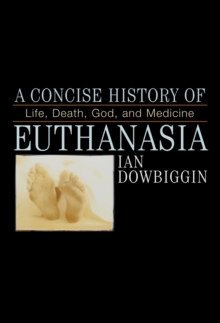 A Concise History of Euthanasia : Life, Death, God, and Medicine
0742531112 / 9780742531116
153 x 231 mm, 263 grams 172 pages
In this first book to explore the history of euthanasia worldwide since classical antiquity, distinguished historian Ian Dowbiggin exposes the many disturbing themes that link present and past in the concept of the right to die.
His deeply informed history traces the controversial record of "mercy killing," a source of heated debate among doctors and laypeople alike.
Dowbiggin examines evolving opinions about what constitutes a good death, taking into account the societal and religious values placed on sin, suffering, resignation, judgment, penance, and redemption.
He also examines the bitter struggle between those who advocate for the right to compassionate and effective end-of-life care and those who justify euthanasia by defining human life in terms of biological criteria, utilitarian standards, a faith in science, humane medical treatment, the principle of personal autonomy, or individual human rights.
The author considers both the influence of technological and behavioral changes in the practice of medicine and the public's surprising lack of awareness of death's many clinical and biological dimensions. Dowbiggin reminds us that the stakes in the struggle are enormously high, with the lives of countless vulnerable people hanging in the balance.
His provocative historical perspective will be indispensable as patients, families, governments, and the medical community debate when it is time to let go of life.
Bound to spark controversy, this book takes issue with the right-to-die movement over the question of legalizing either assisted suicide or actual lethal injection (mercy-killing) and raises profound personal and collective questions on the future of euthanasia.
BIC: