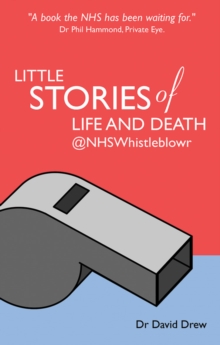 Little stories of life and death @NHSwhistleblowr
1783065230 / 9781783065233
Usually dispatched within 2 weeks
The scandals of poor care and repeated cover-ups in the NHS in recent years have raised serious questions about the mistreatment of NHS whistleblowers.
This book is autobiographical and offers the first detailed account of the ruin of a highly competent senior doctor who blew the whistle.
Dr David Drew was a NHS consultant at Walsall Manor Hospital for over 19 years, including 7 spent as head of the paediatric department, before ongoing concerns over the state of poor care led him to become a whistleblower.
This put him on a collision course with senior NHS hospital managers.
Removed as head of department, he was suspended on trumped up charges, faced allegations of mental illness and disciplinary action and was dismissed for Gross Misconduct and Insubordination.
David's eye-opening account gives a unique insight into the NHS procedures that are used to dispose of senior management's critics - at the cost of patient care.
BIC:
1DBK United Kingdom, Great Britain, MBDC Medical ethics & professional conduct, MBP Health systems & services