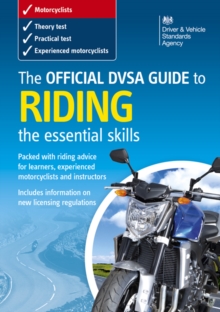 The official DSA guide to riding : the essential skills ([5th] ed)
0115526447 / 9780115526442
Usually dispatched within 2 weeks
Previous ed.: published as Motorcycle riding. 2001.
Whether you're a new or an experienced rider this official DSA guide will help you acquire and maintain the skills necessary to keep you safe on the road.
Updated to include the very latest information on Eco-Safe riding and avoiding and dealing with congestion, this new edition for 2005 offers everything a novice or qualified motorcyclist needs to know to be a more skilful rider.
Thousands of deaths that occur each year on UK roads might be prevented by improving standards of driving and riding.
By promoting the correct attitude and approach to motorcycling, along with the essential riding techniques, "The Official DSA Guide to Riding" - the essential skills will keep you on the road to safe riding for life.
It is fully illustrated and written in a clear, easy-to-understand manner and there is no comparable comprehensive, official product available on the market.
BIC:
TRC Automotive technology & trades, VSF Roadcraft, driving & the Highway Code, WGCK Motorcycles: general interest