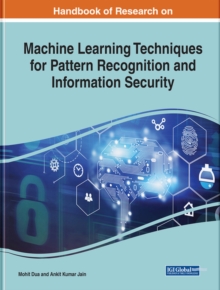 Machine learning techniques for pattern recognition and information security
1799832996 / 9781799832997
The artificial intelligence subset machine learning has become a popular technique in professional fields as many are finding new ways to apply this trending technology into their everyday practices.
Two fields that have majorly benefited from this are pattern recognition and information security.
The ability of these intelligent algorithms to learn complex patterns from data and attain new performance techniques has created a wide variety of uses and applications within the data security industry.
There is a need for research on the specific uses machine learning methods have within these fields, along with future perspectives.
Machine Learning Techniques for Pattern Recognition and Information Security is a collection of innovative research on the current impact of machine learning methods within data security as well as its various applications and newfound challenges.
While highlighting topics including anomaly detection systems, biometrics, and intrusion management, this book is ideally designed for industrial experts, researchers, IT professionals, network developers, policymakers, computer scientists, educators, and students seeking current research on implementing machine learning tactics to enhance the performance of information security.
BIC:
UR Computer security, UYQM Machine learning, UYQP Pattern recognition, UYQV Computer vision