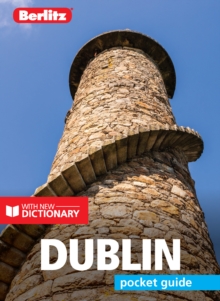 Dublin (Eleventh edition)
1785732315 / 9781785732317
144 pages : illustrations (colour), maps (colour).
Berlitz Pocket Guide Dublin The world-renowned pocket travel guide by Berlitz. Part of our UEFA Euro 2020 guidebook series. If you're planning to visit Dublin Arena to watch Euro 2020 matches, then this pocket guidebook provides all the information you need to make the most of your trip, from ready-made itineraries to help you explore the city when you're not at the game, to essential advice about getting around. Compact, concise and packed full of essential information about where to go and what to do, this is an ideal on-the-move guide for exploring Dublin.
From top tourist attractions like O'Connell Street, Dublin Castle, and the National Gallery, to cultural gems including the magnificent library at Trinity College which houses The Book of Kells, the music-filled streets of Temple Bar with its legendary traditional pubs, and the elegant architecture of the Custom House which dominates the north bank of the Liffey, plan your perfect trip with this practical, all-in-one travel guide.
Features of this travel guide to Dublin:- Inspirational itineraries: discover the best destinations, sights and excursions, highlighted with stunning photography- Historical and cultural insights: delve into the city's rich history and culture, and learn all about its people, art and traditions- Practical full-colour map: with every major sight and listing highlighted, the full-colour maps make on-the-ground navigation easy- Key tips and essential information: from transport to tipping, we've got you covered- Covers: Grafton Street and around; Old Dublin; Georgian Dublin; North of the river; Excursions around the city in County Dublin You may also like: Berlitz Pocket Guide IrelandAbout Berlitz: Berlitz draws on years of travel and language expertise to bring you a wide range of travel and language products, including travel guides, maps, phrase books, language-learning courses, dictionaries and kids' language products.
BIC: