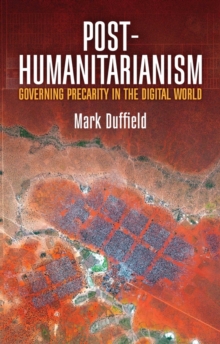 Post-humanitarianism : governing precarity in the digital world
074569859X / 9780745698595
The world has entered an unprecedented period of uncertainty and political instability.
Faced with the challenge of knowing and acting within such a world, the spread of computers and connectivity, and the arrival of new digital sense-making tools, are widely celebrated as helpful.
But is this really the case, or have we lost more than gained in the digital revolution?
In Post-Humanitarianism, renowned scholar of development, security and global governance Mark Duffield offers an alternative interpretation.
He contends that connectivity embodies new forms of behavioural incorporation, cognitive subordination and automated management that are themselves inseparable from the emergence of precarity as a global phenomenon.
Rather than protect against disasters, we are encouraged to accept them as necessary for strengthening resilience.
At a time of permanent emergency, humanitarian disasters function as sites for trialling and anticipating the modes of social automation and remote management necessary to govern the precarity that increasingly embraces us all. Post-Humanitarianism critically explores how increasing connectivity is inseparable from growing societal polarization, anger and political push-back.
It will be essential reading for students of international and social critique, together with anyone concerned about our deepening alienation from the world.
BIC: