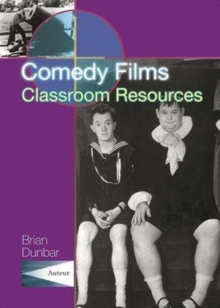 Comedy films : a teacher's guide
190366313X / 9781903663134
Stock expected by 15/04/2020
"Comedy Films: A Teacher's Guide offers the ideal introduction for teachers of GCSE and AS/A level Film and Media Studies of a style of film-making that offers unique challenges when subject to study in the classroom.
In a lengthy introduction, Brian Dunbar identifies generic conventions common to comedy (is it a 'genre' as such?) and goes on to consider them in relation to a series of detailed case studies.
The key concepts of Media Studies are addressed through analysis of individual films using a historical narrative structure -- from the silent comedy film (Buster Keaton's The General), through Classical Hollywood 'screwball comedy' (Bringing Up Baby), British comedy films (Ealing Studios and The Ladykillers), foreign comedy (Jacques Tati) and contemporary independent American comedy (Rushmore).
The author also examines Some Like it Hot and considers its status as 'the funniest movie ever made'."
BIC: