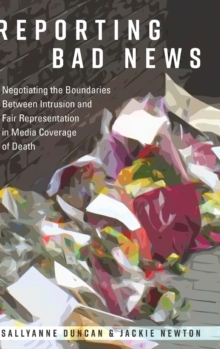 Reporting Bad News : Negotiating the Boundaries Between Intrusion and Fair Representation in Media Coverage of Death (New ed)
1433125641 / 9781433125645
150 x 225 mm, 440 grams 224 pages, 1 Illustrations, unspecified
Reporting Bad News addresses a gap in the literature concerning death reporting and stories of personal tragedy.
Much has been written about disasters and large-scale tragedies, but this research concentrates on individual loss and the relationship between journalist and vulnerable interviewee.
While much discussion in this area is negative, focusing on the ethics of intrusion and journalists who act insensitively under pressure, the authors' aim is to turn this focus around by looking at best practice in encounters between reporters and the bereaved, survivors and the vulnerable.
It is hoped that by examining contemporary death reporting, explaining its public service role, proposing a new model of ethical participation and offering a structure for sensitive interviewing, the most harmful aspects of the process can be reduced for both the journalist and, more importantly, the grieving and the victims.
The work is based on years of research by the authors, on interviews with journalists, journalism educators, bereaved families and support groups and is supplemented with a detailed analysis of the reporting of death across academic disciplines and perspectives.
BIC: