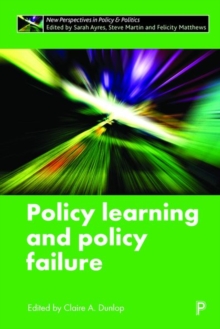 Policy Learning and Policy Failure
1447352009 / 9781447352006
156 x 234 mm 170 pages, 1 Tables, black and white; 7 Illustrations, black and white
Policy successes and failures offer important lessons for public officials, but often they do not learn from these experiences.
The studies in this volume investigate this broken link.
The book defines policy learning and failure and organises the main studies in these fields along the key dimensions of processes, products and analytical levels.
Drawing together a range of experts in the field, the volume sketches a research agenda linking policy scholars with policy practice.
BIC: