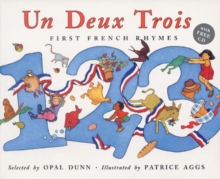 Un, deux, trois : first French rhymes
1845076230 / 9781845076238
20 x 24 cm 20 p. : col. ill.
Reprint. Compact disc. Originally published: 1996.
Simple songs and rhymes are an excellent way to familiarize young children with another language.
Un Deux Trois a collection of 25 traditional nursery rhymes, is a delightful way to introduce French.
An illustrated vocabulary features simple words and phrases that are easy to learn and that can be used in games or everyday life.
Children are encouraged to repeat the phrases and sing along with the rhymes, and the included CD lets them know how both should sound.
The lively illustrations and amusing rhymes make learning a new language fun.
A guide for parents translates more difficult phrases.
BIC:
2ADF French, YBLB1 Early learning: verse & rhymes, YQF Educational: Languages other than English