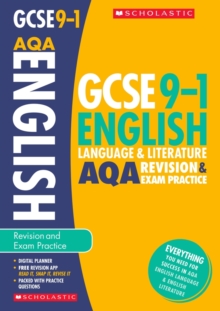 English language and literature: Revision and exam practice book for AQA
1407169165 / 9781407169163
"This is a fantastic resource. I'm a teacher but as a parent I would be purchasing this.
You've got everything in here you need for the AQA GCSE English Language & Literature 9-1 course.
It is a wonderful resource and as a huge CGP fan I would say this knocks socks of their material." SJSmith, Amazon customer Everything you need to prepare ahead of your GCSE English exams This English Language and Literature Revision and Practice Book is designed to support you in the development of good exam techniques. It is packed full of tips and tasks to make sure you really know and understand the key revision points.
With loads of practice questions (and answers) for every topic, and written by experienced teachers and revision experts - you can't go wrong! * Use the free, personalised digital revision planner and get stuck into the quick tests to check your understanding * Download our free revision cards which you can save to your phone to help you revise on the go * Question styles similar to those you will meet in the exam * Work through lots of practice questions written specifically for the new GCSE 9-1 course * Challenge yourself with questions designed to get you better grades * Develop excellent exam technique with exam tips and support to help you when the going gets tough! Do it! Active practice to help you retain key facts Nail it!
Examiner tips to help you get better grades Snap it!
Read it, snap it on your phone, revise it...helpsyou retain key facts Stretch it!
Support for the really tough stuff that will get you higher grades The perfect companions... Revision and Practice Books for GCSE 9-1 examinations in English Language and Literature, Biology, Chemistry, Geography, Maths Foundation, Maths Higher, and Physics. * Active revision to help the knowledge sink in * Free revision planner and revision cards to help you revise on the go * Challenge yourself with questions designed to get you better grades
BIC:
4KD UK educational tests, 4KHT For National Curriculum Key Stage 4 & GCSE, YQC Educational: English language & literacy, YQE Educational: English literature, YQZ Educational: study & revision guides