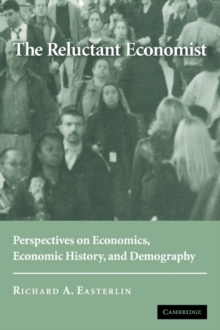 The Reluctant Economist : Perspectives on Economics, Economic History, and Demography
0521685117 / 9780521685115
Usually dispatched within 4 weeks
170 x 227 mm, 460 grams 308 pages
Where is rapid economic growth taking us? Why has its spread throughout the world been so limited?
What are the causes of the great twentieth century advance in life expectancy?
Of the revolution in childbearing that is bringing fertility worldwide to near replacement levels?
Have free markets been the source of human improvement?
Economics provides a start on these questions, but only a start, argues economist Richard A.
Easterlin. To answer them calls for merging economics with concepts and data from other social sciences, and with quantitative and qualitative history.
Easterlin demonstrates this approach in seeking answers to these and other questions about world or American experience in the last two centuries, drawing on economics, demography, sociology, history, and psychology.
The opening chapter gives an autobiographical account of the evolution of this approach, and why Easterlin is a 'reluctant economist'.
BIC: