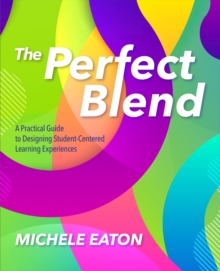 The Perfect Blend : A Practical Guide to Designing Student-Centered Learning Experiences
1564848450 / 9781564848451
Many blended learning initiatives start from the top down and are designed for specific populations or make drastic changes to a school's learning structure.
But any K-12 classroom teacher can find ways to leverage blended learning within the four walls of their classroom, regardless of the constructs of their learning environment.
All they need is a willingness to rethink their role in the classroom - moving from content deliverer to architect of learning. In The Perfect Blend, you'll learn how to create a "homemade recipe" for effective blended learning within your classroom.
Rather than focusing on finding and implementing a specific established model, author Michele Eaton shows teachers how to embrace the flexibility of blended learning to take an active role as a designer of learning in the classroom and, in the process, helping students find their voices as advocates for their education. This book will: provide an accessible resource for teachers beginning to use technology in the classroom as well as master blended teachers looking for new ideas or strategies; include templates and planning tools that can be used as is or modified to fit the needs of your students; and focus on three key aspects of blended learning: understanding and reflecting on your role as a designer of learning experiences, using digital content in the classroom and creating active and intentional learning spaces.
BIC:
JNL Schools, JNT Teaching skills & techniques, JNV Educational equipment & technology, computer-aided learning (CAL)