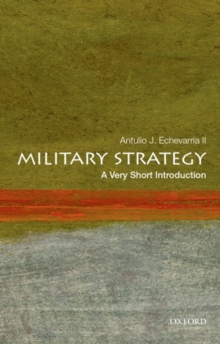 Military strategy : a very short introduction
0199340137 / 9780199340132
Since ancient times, poets, historians, and philosophers have contemplated warlords' exploits in battle and praised their ability to lead armies toward victory as the "art of the general." Today, this quality is designated military strategy.
Military strategy plays a vital role in every conflict, because, as the United States' involvement in the Vietnam conflict showed, when the overarching strategy is weak it is possible to win every battle but still lose a war. Taking inspiration from the greatest military theoreticians of history, such as Sun Tzu, Niccolo Machiavelli, and Carl von Clausewitz, this Very Short Introduction highlights the dynamic relationship between the principal components of strategy: purpose, method, and means.
Drawing on paradigmatic examples, from Hannibal's war against Rome to Napoleon's victory at Austerlitz, from the Allies' campaign to overwhelm Hitler's fortress to the terror attacks of September 11, Antulio J. Echevarria II vividly illustrates the factors contributing to the success or failure of military strategy. Echevarria describes the major types of military strategy and their advantages and disadvantages: annihilation and dislocation; attrition and exhaustion; deterrence and coercion; terror and terrorism; targeted killing; and cyber power.
He also explores the emerging nano- and bio-genetic technologies and explains how they are affecting today's military strategy.
Clear and engaging, this book shows that military strategy is essential for understanding major events of the past and becomes evenmore critical today, in a world increasingly threatened by weapons of mass destruction, terrorist attacks, and new dimensions of conflict, such as cyberwar and space.
BIC:
HBG General & world history, HBW Military history, JWA Theory of warfare & military science