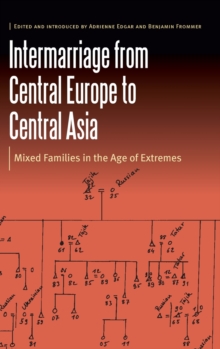 Intermarriage from Central Europe to Central Asia : Mixed Families in the Age of Extremes
1496202112 / 9781496202116
Stock expected by 12/06/2020
152 x 229 mm 372 pages, 4 tables, 2 charts, 2 graphs, index
Intermarriage from Central Europe to Central Asia examines the practice and experience of interethnic marriage in a range of countries and eras, from imperial Germany to present-day Tajikistan.
In this interdisciplinary volume Adrienne Edgar and Benjamin Frommer have drawn contributions from anthropologists and historians.
The contributors explore the phenomenon of intermarriage both from the top down, in the form of state policies and official categories, and from the bottom up, through an intimate look at the experience and agency of mixed families in modern states determined to control the lives and identities of their citizens to an unprecedented degree. Contributors address the tensions between state ethnic categories and the subjective identities of individuals, the status of mixed individuals and families in a region characterized by continual changes in national borders and regimes, and the role of intermarried couples and their descendants in imagining supranational communities.
The first of its kind, Intermarriage from Central Europe to Central Asia is a foundational text for the study of intermarriage and ethnic mixing in Eastern Europe and Eurasia.
BIC:
HBG General & world history, JFSJ Gender studies, gender groups, VFVG Dating, relationships, living together & marriage