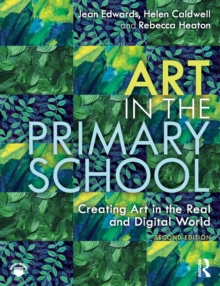 Art in the primary school : creating art in the real and digital world (Second edition.)
0367273365 / 9780367273361
25 cm xi, 340 pages : illustrations (black and white)
"Support material"--Front and back cover Previous edition: published as Teaching primary art by Jean Edwards. Harlow: Pearson, 2013.
Art in the Primary School is an introductory textbook, and a second edition to Teaching Primary Art, exploring the underpinning philosophy and pedagogy of teaching and learning art, including how and why digital tools and technologies can be integrated.
This book considers practical aspects of teaching art, focusing on key processes of art making that children might experience in primary schools.
It is based around the idea that digital tools and technologies can and should be integrated into the learning and teaching of art, exploring:What art is like in the primary school, why it should be taught and what is included in the curriculumHow learning is planned, assessed, taught and supported in the classroomLearning about and from artists and how digital technology can be part of the art curriculumKey processes such as drawing, painting, printmaking, collage and textiles, working in three dimensions and making digital artUniquely incorporating the use of digital devices, tools and technologies into the subject of art, this book will be essential reading for those training to teach and support learning in art in the primary school.
BIC:
JNLB Primary & middle schools, JNT Teaching skills & techniques