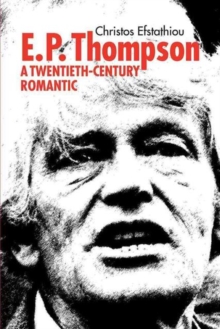 E.P Thompson : A Twentieth Century Romantic
0850367158 / 9780850367157
This study presents and probes the political motivations and interests of EP Thompson (1924-1993). Thompson began his political life, as a member of the Communist Party, when the Party was making its greatest electoral impact.
After the events in Hungary in 1956 he came into conflict with others in the New Left over issues of theory, orthodoxy and politics.
He was at the forefront of the movement opposing nuclear weapons in the United Kingdom in the 1980s, becoming an extremely well known political figure.
He supported the efforts of Soviet and American dissenters seeking an end to the Cold War through the European Nuclear Disarmament campaign.
He helped redirect the focus of historical study; through his classic: The Making of the English Working Class, and was a pioneer in the field of social history Throughout much of his life he focussed on the promotion of a Popular Front agenda.He saw the re-emergence of national radical culture and the first non-aligned movements in the late '70s as the first signs of opposition to the Cold War and a rehabilitation of the Popular Front spirit: 'In a sense that insurgent, popular-front-type political moment reached its peak between '43 and '46. It was destroyed by both British and American reaction and inwardly destroyed by Stalinism.
One of the things that makes me feel excited is that, in a curious kind of way, I think Europe is beginning cautiously to resume a kind of advance that was interrupted by the cold war.'
BIC:
HBAH Historiography, JPFF Socialism & left-of-centre democratic ideologies