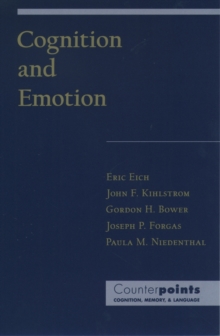 0195113349 / 9780195113341
postgraduate Learn More
research & professional
undergraduate
Recent years have witnessed a revival of research in the interplay between cognition and emotion.
The reasons for this renaissance are many and varied.
In the first place, emotion theorists have come to recognise the pivotal role of cognitive factors in virtually all aspects of the emotion process, and to rely on basic cognitive factors insight in creating new models of affective space.
Also, the successful application of cognitive therapies to affective disorders has promoted clinical psychologists to work towards a clearer understanding of the connections between cognitive processes and emotional problems. And whereas the cognitive revolutionaries of the 1960s regarded emotions with suspicion, viewing them as nagging sources of 'hot' noise in an otherwise cool, rational, and computer-like system of information processing, cognitive researchers of the 1990s regard emotions with respect, owing to their potent and predictable effects on tasks as diverse as object perception, episodic recall, and risk assessment.
These intersecting lines of interest have made cognition and emotion one of the most active and rapidly developing areas within psychological science.
BIC:
JMAQ Cognitivism, cognitive theory, JMM Physiological & neuro-psychology, biopsychology, JMR Cognition & cognitive psychology, MMJ Clinical psychology