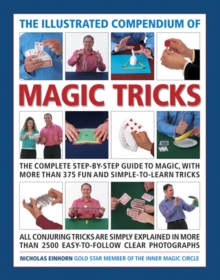 Illustrated Compendium of Magic Tricks
178019434X / 9781780194349
Magic is a fabulous form of entertainment, both on a professional basis and in the home.
This comprehensive book contains more than 375 tricks, ranging from card, money and mind magic, optical illusions and close-up magic to puzzles, party tricks and stand-up and stage illusions.
More than 2500 step-by-step photographs reveal all the skills you need, and close-up secret views show how the illusions are performed, with tips on preparation and patter enabling you to achieve a polished performance.
Whether you are a keen novice or want to expand your repertoire, this inspiring book will enable you to confound and amaze friends and family.
BIC: