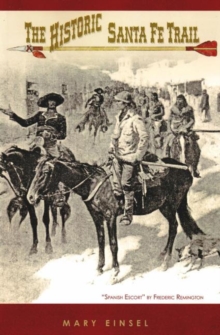 The Historic Santa Fe Trail
0615318134 / 9780615318134
Usually dispatched within 2 weeks
155 x 230 mm 170 pages, b/w photos & illus
The unexplored plains and mountains west of the Missouri River, known only to Indians and a few mountain men -- the land between St.
Louis and the Mexican hamlet of Santa Fe -- became the talk of young America in the 1820s.
After the yoke of Spanish rule was lifted from Santa Fe in 1821, pack mules with trading merchandise headed out across the unknown prairie to trade with Mexico.
Soon, thousands of covered wagons were using the dangerous Santa Fe Trail, the only pathway across wild Indian country.
The wagons carried guns, iron, whiskey, and cotton, to trade for Mexican gold, silver, and furs.
The story of the Santa Fe Trail embodies the unique early West that America loves.
BIC:
1KBBW Western & Pacific Coast states, 3JH c 1800 to c 1900, HBJK History of the Americas, HBLL Modern history to 20th century: c 1700 to c 1900