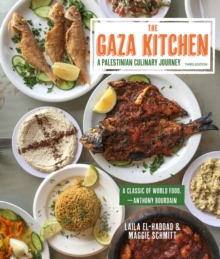 The Gaza Kitchen : A Palestinian Culinary Journey
1682570967 / 9781682570968
215 x 254 mm, 0 grams 336 pages
This new edition of an award-winning cookbook shares with readers the little-known but distinctive cuisine of the Gaza region of Palestine, presenting 130 recipes collected by the authors from Gaza.
Cooks will find great, kitchen-tested recipes for spicy stews, piquant dips, fragrantly flavored fish dishes, and honey-drenched desserts.
They will also be entranced by the hundreds of beautiful photos of Gazan cooks, farmers, and fresh-produce merchants at work, and by the numerous in-kitchen interviews in which these women and men tell the stories of their food, their heritage, and their families.
Anthony Bourdain, Claudia Roden, and Yotam Ottolenghi are among the many culinary figures who have embraced The Gaza Kitchen.
This second edition features tantalizing new stories and recipes, a fresh new design in a beautiful paperback volume, new photos, and an updated index.
BIC: