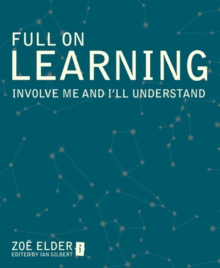 Full on learning : involve me and I'll understand
1845906810 / 9781845906818
Full On Learning provides a blueprint for educators in all settings to construct the ideal conditions for effective learners to grow and develop.
This is a no-compromise approach to the architecture of learning, creating quality learning experiences that foster a love of learning. The start point is your end-point: the learner. What kind of learner do you want to develop? What are the characteristics of an effective learner and how can we teach to support the development of these characteristics?
If future employers are looking for people who can solve problems, think creatively and be innovative, what can we do, as part of our current curriculum provision to enable students to 'deliberately' practise this skill? Full On Learning offers a range of tried & tested practical suggestions and ideas to create the ideal conditions for effective learners to flourish.
BIC:
JNC Educational psychology, JNT Teaching skills & techniques