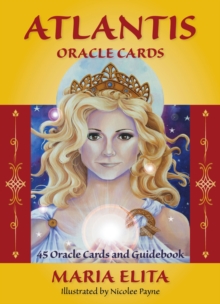 Atlantis Oracle : An Awakening and Remembrance of the Ancient Self
0992347653 / 9780992347659
123 x 170 mm, 1 grams 45 pages
Maria Elita's much awaited debut oracle deck - ATLANTIS ORACLE CARDS - has been many lifetimes in the making.
This mythical, mystical and miraculous divination deck, complete with channelled artwork by Archibald Finalist, Nicolee Payne, has been created to reawaken the Ancient Self - connected to Atlantis and beyond - as well as deliver accurate messages and divine guidance for the here and now.
Maria Elita is the original creator of the World Famous Atlantean Crystal Bed and she is, also, a direct descendant of Ithaca, Greece (where much Ancient Mythology was born).
It is now with great pride and honour that she shares with you her direct 'Awakening and Remembrance of Atlantis' in this 45 card oracle deck. 45 full col cards & 120pp book
BIC: