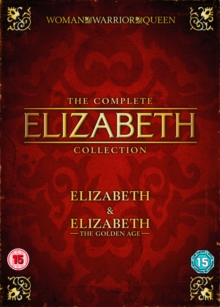 Elizabeth/Elizabeth:The Golden Age
English, French, Arabic, Danish, Dutch, Finnish, Icelandic, Norwegian, Swedish, Ukrainian
(15) Suitable for 15 years and over.
Double bill of films starring Cate Blanchett as Queen Elizabeth I.
In 'Elizabeth' (1998), It's 1554 and England is ruled by the fervently Catholic Queen Mary (Kathy Burke), whose persecution of Protestants even extends to her own half-sister, Elizabeth (Blanchett).
When Mary dies, Elizabeth succeeds to the throne, but finds her country under threat from the Scots, French and Spanish.
Although conducting an affair with Robert Dudley, the Earl of Leicester (Joseph Fiennes), Elizabeth is urged by her advisors to wed and produce an heir.
Meanwhile, plots against her are being hatched by the Catholic bishops, and Elizabeth soon becomes the target of an assassination attempt.
In 'Elizabeth:The Golden Age' (2007), Blanchett reprises her role as the 'Virgin Queen'.
This time round Elizabeth has to contend with the rising power of Spain, as Philip II (Jordi Molla) readies an armada for invasion, intent on returning England to Catholic influence.
While her trusty servant Sir Francis Walsingham (Geoffrey Rush) works tirelessly to protect her from numerous plots, Elizabeth discovers she has a potential weakness in her fondness for Sir Walter Raleigh (Clive Owen).
Commentary: Shekhar Kapur (Director)
Other Documentary: 'Elizabeth - The Golden Age': 'Inside Elizabeth's World', 'Creating the Armada', 'Towers, Courts and Cathedrals'