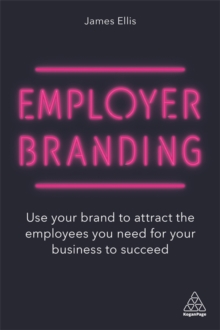 Employer branding : use your brand to attract the employees you need for your business to succeed
1789665078 / 9781789665079
Professional & Vocational Learn More
Tertiary Education (US: College)
Getting recruitment right should be a key business priority because the costs of getting it wrong are huge.
These are not limited to simply wasted salary, recruitment costs and training spend, a poor hiring decision impacts individual and team productivity and workforce morale.
These poor decisions often occur because recruiters don't know how to effectively use their employer brand.
This is a company's reputation as a place to work, their employee value proposition and culture and getting this right ensures that a business attracts the people it needs to succeed and can build an engaged, motivated and productive workforce.
Employer Branding is a practical guide for all recruitment and talent professionals which explains what employer branding is, why it's important and most importantly, how to use it to identify, attract and acquire the talent the business needs. Employer Branding is a step-by-step guide which allows people management professionals to understand how to identify what skills their business needs and how to attract the people with these skills.
It also explains how to develop a compelling employee value proposition and identify the best way to communicate this as well as how to make the most of social media and company review sites This book also contains expert guidance on how to ensure the employer brand experienced by existing employees aligns with the external messaging.
Packed full of case studies from companies who have seen the benefits of a strong employer brand including Southwest Airlines, Visa, Marriott and Microsoft, this is essential reading for all HR professionals needing to make their company the top choice for the candidates they need to outperform the competition.
BIC: