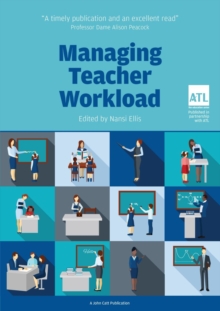 Managing Teacher Workload : A Whole-School Approach to Finding the Balance
1909717894 / 9781909717893
It is acknowledged that the quality of teaching is the critical factor in raising standards of learning. And yet teachers' workload has rocketed in recent years, leaving morale for many at rock-bottom.
Recent DfE analysis shows that primary teachers work around 60 hours a week and school leaders even longer.
This is not sustainable. Teachers need an end to excessive working hours. Edited by Nansi Ellis, assistant general secretary at leading teaching union ATL, Managing Teacher Workload brings together leading educationalists to discuss real, practical ways to solve the biggest problem in the profession.
Contributors include: Mary Bousted, General Secretary, ATL; Emma Knights, Chief Executive of the National Governors' Association (NGA); Heath Monk, Executive Director of the Schools of King Edward VI in Birmingham, former CEO of the Future Leaders Trust; Julian Stanley, chief executive, Education Support Partnership; Mary Myatt; Joe Pardoe; Lee Card; Toby French; Judith Vaughan; Collette Bradford
BIC:
JNF Educational strategies & policy, JNKH Teaching staff, JNT Teaching skills & techniques