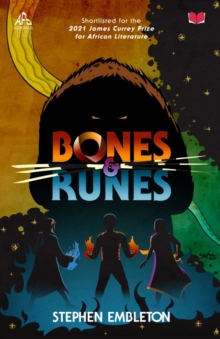 Bones and runes
1739774701 / 9781739774707
Stock expected by 20/07/2022
Three friends have their loyalty, beliefs and ancestral magic pushed to the limit.
Mlilo, a young isangoma, is forced to call on his friend Dan, a Druid apprentice, to help him retrieve his sacred amathambo (bones) from the clutches of evil.
Taking us on an unprecedented journey through the magical realms of his ancestry and traditional beliefs, Mlilo's emerging skills are tested in life or death encounters with beings from the realm of Abaphansi.
Amira, a close friend of Dans, has her own independent path to forge but will soon find that her personal quests are inextricably linked to the two men.
The three young adults, finding their way in the world, still have much to learn about themselves, their conflicting approaches, and their true callings.
They must work together, combine their skills and find the talismans that make up Mlilos bag of bones, the key ingredient to an isangomas abilities and powers in this and the other worlds around us.
While the gods, demigods, deities and shapeshifters, all with their own agendas, make navigating Abaphansi a deathly challenge.
The solitary isangoma, self-reliant to the extreme, will learn the importance of friendships, alliances and the meaning of living life in the real.
BIC: