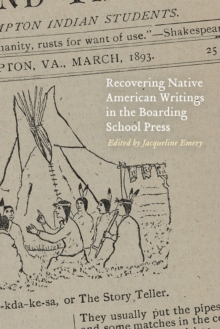 Recovering Native American Writings in the Boarding School Press
1496219597 / 9781496219596
152 x 229 mm 366 pages, 3 illustrations, index
2018 Outstanding Academic Title, selected by Choice Winner of the Ray & Pat Browne Award for Best Edited CollectionRecovering Native American Writings in the Boarding School Press is the first comprehensive collection of writings by students and well-known Native American authors who published in boarding school newspapers during the late nineteenth and early twentieth centuries.
Students used their acquired literacy in English along with more concrete tools that the boarding schools made available, such as printing technology, to create identities for themselves as editors and writers.
In these roles they sought to challenge Native American stereotypes and share issues of importance to their communities. Writings by Gertrude Bonnin (Zitkala-Sa), Charles Alexander Eastman, and Luther Standing Bear are paired with the works of lesser-known writers to reveal parallels and points of contrast between students and generations.
Drawing works primarily from the Carlisle Indian Industrial School (Pennsylvania), the Hampton Institute (Virginia), and the Seneca Indian School (Oklahoma), Jacqueline Emery illustrates how the boarding school presses were used for numerous and competing purposes.
While some student writings appear to reflect the assimilationist agenda, others provide more critical perspectives on the schools' agendas and the dominant culture. This collection of Native-authored letters, editorials, essays, short fiction, and retold tales published in boarding school newspapers illuminates the boarding school legacy and how it has shaped Native American literary production.
BIC:
DQ Anthologies (non-poetry), HBTB Social & cultural history, JFSL9 Indigenous peoples