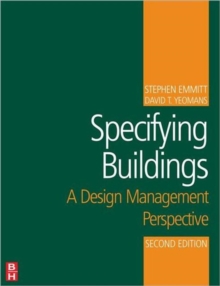 Specifying buildings : a design management perspective (2nd ed)
075068450X / 9780750684507
Usually dispatched within 4 weeks
Previous ed.: 2001. At head of cover title: Chartered Institute of Architectural Technologists.
Selecting the best materials, techniques and systems for each project and then specifying them correctly to meet all the requirements of quality, time, value, constructability, maintenance and durability is a fundamental aspect of architectural design.
It also helps to determine the quality and environmental impact of the project.
Specifying Buildings: A Design Management Perspective provides a unique insight into the entire specification process, from selecting materials and products to writing the specification, dealing with changes and minimising risk.
This new edition has been extensively revised and includes new case studies, research findings and reviews to illustrate how to translate design intent into building assembly.
The book is structured to meet the needs of students on construction-related programmes such as architecture, engineering, surveying and construction management.
It provides valuable insights and practical guidance, with end of chapter exercises helping students achieve a thorough understanding of the specification process
BIC: