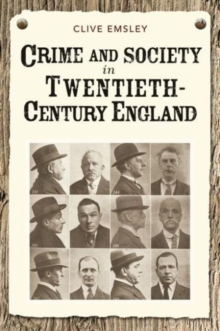 Crime and society in twentieth century England
1405859024 / 9781405859028
Stock expected by 17/04/2020
Crime and Society in Twentieth-Century England traces the broad pattern of criminal offending over a hundred year period that experienced unprecedented levels of upheaval and change.
This period included two world wars, the end of the British Empire, significant shifts in both gender relations and ethnic mix and a decline in the power of the economy. In this new textbook, Professor Clive Emsley provides an up-to-date assessment of changes in attitudes to crime as well as of the developments in policing, in the courts and in penal sanctions over the course of the century.
He explores the impact of growing gender equality and ethnic diversity on crime and criminal justice, and looks at the way in which crime became increasingly central to political agendas in the last third of the century. Written in a clear and accessible manner, the book examines: Perceptions of crime and criminality across the century Varieties of offending from murder to benefit fraud The role of the media in constructing and reinforcing the understanding of crime and the criminal The decline and demise of corporal and capital punishment The shift from largely progressive to more punitive penal practice The first serious attempt to explore the history of crime and criminal justice in twentieth-century England, this book will be an invaluable introduction to the student and interested general reader alike.
BIC:
1DBKE England, 3JJ 20th century, HBJD1 British & Irish history, HBLW 20th century history: c 1900 to c 2000, HBTB Social & cultural history, JKV Crime & criminology