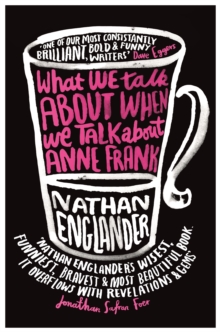 What we talk about when we talk about Anne Frank
1780222297 / 9781780222295
Reprint. Originally published: London: Weidenfeld & Nicolson, 2012.
A FRANK O'CONNOR AWARD-winning, simply stunning short-story collection by one of America's most critically acclaimed young writers. From the up-and-coming young American writer who has contributed to McSweeney's and written for THE NEW YORKER comes a masterful collection of short stories that has already received rave reviews from many of the most prominent writers working today.
Some of the stories are comic masterpieces, some embody as dark a vision of the universe as you are likely to encounter, and all of them showcase a writer grappling with the great questions of modern life.
BIC: