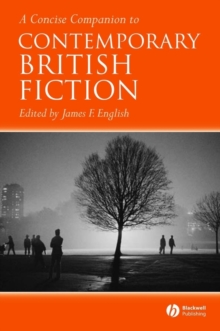 A concise companion to contemporary British fiction
1405120010 / 9781405120012
Stock expected by 05/02/2020
postgraduate Learn More
research & professional
undergraduate
"A Concise Companion to Contemporary British Fiction" offers an authoritative overview of contemporary British fiction in its social, political, and economic contexts.
The book focuses on the fiction that has emerged since the late 1970s, roughly since the start of the Thatcher era, and the resulting transformation of such key areas of literary practice as publishing, bookselling, book reviewing, and higher education.
Although the volume's original contributions range across a variety of topics - from the rise and fall of the postcolonial novel, and controversies over the celebrity author, to the changing relationship between literature and the cinema - each of the contributors attends carefully to the institutional and economic contexts of literary production, and to the contending forces that have shaped the emergent canon of contemporary British fiction.
A Concise Companion to Contemporary British Fiction will enable students to read any work from the last quarter century of British fiction with a much clearer sense of where it fits within British cultural life.
BIC: