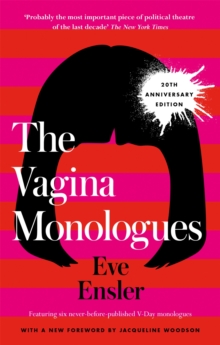 The vagina monologues (20th anniversary edition)
0349011281 / 9780349011288
Previous edition: New York: Villard, 1998.
2018 marks the twentieth anniversary of V-Day, the radical grassroots movement to end violence against women and girls, inspired by Eve Ensler's international sensation The Vagina Monologues.
This special edition features six never-before-published monologues, a new foreword by National Book Award winner Jacqueline Woodson, a new introduction by the author, and a new afterword by One Billion Rising director Monique Wilson on the stage phenomenon's global impact. A landmark work in women's empowerment, as relevant as ever after a year marked by unprecedented social and political protest in the face of unapologetic racism and misogyny, The Vagina Monologues honours women's sexuality in all its complexity, mystery and power.
Witty and irreverent, compassionate and wise, this award-winning masterpiece gives voice to real women's deepest fantasies, fears, anger and pleasure, and calls for a world where all women are safe, equal, free and alive in their bodies. 'This play changed the world. Seeing it changed my soul. Performing in it changed my life'Kerry Washington
BIC: