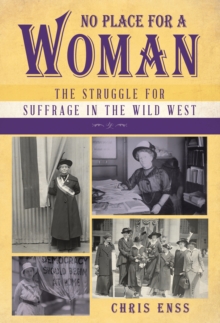 No place for a woman : the struggle for suffrage in the wild west
1493048910 / 9781493048915
24 cm 232 pages : illustrations (black and white), maps (black and white)
In 1869, more than twenty years after Elizabeth Cady Stanton and Susan B.
Anthony made their declaration of the rights of woman at Seneca Falls, New York, the men of the Wyoming Territorial Legislature granted women over the age of 21 the right to vote in general elections. And on September 6, 1870, a grandmother named Eliza Swain stepped up to a ballet box in Laramie, Wyoming, and became the first woman in the United States to exercise that right, ushering in the era of Western states' early foray into suffrage equality.
Wyoming Territory's motives for extending the vote to women might have had more to do with publicity and attracting female settlers than with any desire to establish a more egalitarian society.
However, individual men's interests in the idea of women's rights had their roots in diverse ideologies, and the women who agitated for those rights were equally diverse in their attitudes. No Place for a Woman explores the history of the fight for women's rights in the West, examining the conditions that prevailed during the vast migration of pioneers looking for free land and opportunity on the frontier, the politics of the emerging Western territories at the end of the Civil War, and the changing social and economic conditions of the country recovering from war and on the brink of the Gilded Age.
The stories of the women who helped settle the west and who ushered in voting rights decades ahead of the 19th Amendment and the stories of the country they were forging in the west will be of great interest to readers as the 100th anniversary of national woman suffrage approaches and is relevant in our current political climate.
Revealed through the individual stories of women like Esther Hobart Morris, Martha Cannon, and Jeannette Rankin, this book fills a hole in the story of the West, revealing the real story of how the hard work and individual lobbying of a few heroines, plus a little bit of publicity-seeking and opportunism by promoters of the Wyoming Territory, ushered in a new era for the expansion of women's rights.
BIC:
1KBBW Western & Pacific Coast states, HBJK History of the Americas, HBT History: specific events & topics, JFSJ1 Gender studies: women