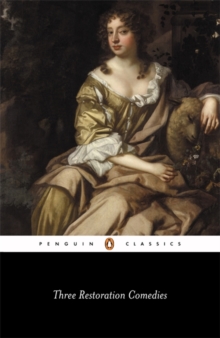 Three Restoration comedies
014043027X / 9780140430271
Reprint. Originally published: 1968. Contents: The man of mode / George Etherege - The country wife / William Wycherley - Love for love / William Congreve.
After the restoration of King Charles II to the British throne in 1660, dramatists experienced new freedom in an age that broke from the strict morality of puritan rule and in which elegance and wit became the chief virtues.
Irreverent, licentious and cynical, the three plays collected here hold up a mirror to this dazzling era and satirize the gulf between appearances and reality.
In Etherege's "The Man of Mode" (1676), the womanizing Dorimant meets his match when he falls in love with the unpretentious Harriet, while Wycherley's "The Country Wife" (c. 1675) depicts the rakish Horner who fakes impotence to fool trusting husbands into giving him easy access to their wives. And in Congreve's "Love for Love" (1695), the extravagant Valentine can only win his beloved Angelica if he loses his inheritance.
BIC: