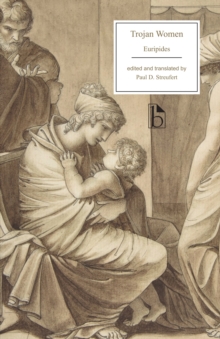 Trojan Women
1554814499 / 9781554814497
Stock expected by 05/11/2021
140 x 216 mm, 221 grams 152 pages
Trojan Women tells the story of the survivors of the Trojan War, the women and children taken into slavery by the victorious Greek army.
Through the tragedy's central character, the matriarch Hecuba, this late play (415 BCE) demonstrates Euripides' commitment to speaking on behalf of the less powerful and offers a scathing critique of Athenian behavior as the city fought its own disastrous war with its southern neighbor, Sparta.
Trojan Women features well-known characters from Greek mythology, including the prophetess Cassandra, the gods Athena and Poseidon, and most notably, the infamous Helen, the cause of the war, who must defend herself to the husband she abandoned.
This new translation features a text committed to accuracy and clarity, one developed in collaboration with actors for clear reading and performance. Appendices provide other important literary treatment of the women in the play, from Homer to Shakespeare.
BIC:
DB Classical texts, DD Plays, playscripts, DSG Literary studies: plays & playwrights