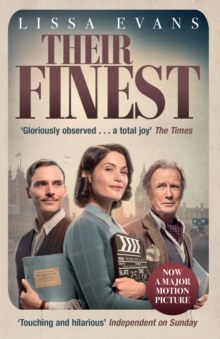 Their finest
1784162612 / 9781784162610
Reprint. Film tie-in. Originally published: as Their finest hour and a half. London: Doubleday, 2009.
Now a major film starring Gemma Arterton, Sam Claflin and Bill Nighy. It's 1940. In a small advertising agency in Soho, Catrin Cole writes snappy lines for Vida Elastic and So-Bee-Fee gravy browning.
But the nation is in peril, all skills are transferable and there's a place in the war effort for those who have a knack with words. Catrin is conscripted into the world of propaganda films.
After a short spell promoting the joy of swedes for the Ministry of Food, she finds herself writing dialogue for 'Just an Ordinary Wednesday', a heart-warming but largely fabricated 'true story' about rescue and romance on the beaches of Dunkirk. And as bombs start to fall on London, she discovers that there's just as much drama, comedy and passion behind the scenes as there is in front of the camera . . . Originally published as Their Finest Hour and a Half
BIC:
FJMS Second World War fiction, FV Historical fiction, WH Humour