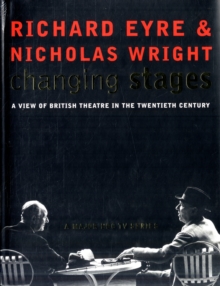 Changing stages : a view of British theatre in the twentieth century
0747547890 / 9780747547891
Usually dispatched within 4 weeks
In 1997, Richard Eyre was invited by the BBC to write and present a series of programmes about the history of British theatre in the 20th century.
Eyre decided to write a book first and then base his TV series on it.
This is that book. Together with Nicholas Wright, the two present what they describe as a "partial, personal and unscholarly view of the century's theatre", told from the point of view of two of theatre's most experienced practitioners.
The book traces the way in which Shakespeare's plays have been used as nationalistic pageants, star vehicles and contemporary metaphors, mirroring changes in society over the century.
Like the theatre itself, the book has been drawn from a variety of sources, themes, people and movements.
BIC:
1DBK United Kingdom, Great Britain, 3JJ 20th century, AN Theatre studies, HBJD1 British & Irish history, HBLW 20th century history: c 1900 to c 2000, HBT History: specific events & topics