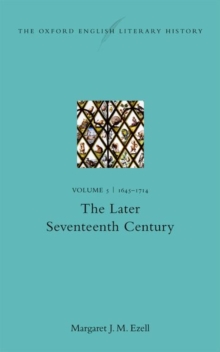 The Oxford English literary historyVolume V,: 1645-1714, the later seventeenth century
0198183119 / 9780198183112
Stock expected by 17/04/2020
The Oxford English Literary History is the new century's definitive account of a rich and diverse literary heritage that stretches back for a millennium and more.
Each of these thirteen groundbreaking volumes offers a leading scholar's considered assessment of the authors, works, cultural traditions, events, and ideas that shaped the literary voices of their age.
The series will enlighten and inspire not only everyone studying, teaching, and researching in English Literature, but all serious readers. This volume covers the period 1645-1714, and removes the traditional literary period labels and boundaries used in earlier studies to categorize the literary culture of late seventeenth-century England.
It invites readers to explore the continuities and the literary innovations occurring during six turbulent decades, as English readers and writers lived through unprecedented events including a King tried and executed by Parliament and another exiled, the creation of the national entity 'GreatBritain', and an expanding English awareness of the New World as well as encounters with the cultures of Asia and the subcontinent.
The period saw the establishment of new concepts of authorship and it saw a dramatic increase of women working as professional, commercial writers.
London theatres closedby law in 1642 reopened with new forms of entertainments from musical theatrical spectaculars to contemporary comedies of manners with celebrity actors and actresses.
Emerging literary forms such as epistolary fictions and topical essays were circulated and promoted by new media including newspapers, periodical publications, and advertising and laws were changing governing censorship and taking the initial steps in the development of copyright.
It was a period which produced some of the mostprofound and influential literary expressions of religious faith from John Milton's Paradise Lost and John Bunyan's Pilgrim's Progress, while simultaneously giving rise to a culture of libertinism and savage polemical satire, as well as fostering the new dispassionate discourses of experimentalsciences and the conventions of popular romance.
BIC:
2AB English, 3JD c 1600 to c 1700, DSBD Literary studies: c 1500 to c 1800