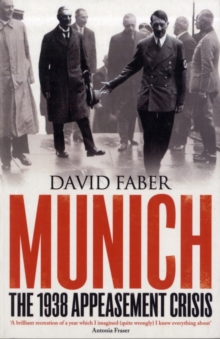 Munich : the 1938 appeasement crisis
1847390064 / 9781847390066
Stock expected by 27/11/2019
20 cm x, 518 p., [16] p. of plates : ill., ports.
Reprint. Originally published: London: Simon & Schuster, 2008.
On 30 September 1938 Neville Chamberlain flew back to London from his meeting at Munich with the German Chancellor, Adolf Hitler.
As he paused on the aircraft steps, he held aloft the piece of paper which bore both his and the Fuhrer's signature, the promise that Britain and Germany would never go to war with one another again.
He had returned bringing 'Peace with honour - Peace for our Time.' Drawing on a wealth of original archival material, David Faber sheds new light on this extraordinary story, tracing the key incidents leading up to the meeting at Munich and its immediate aftermath: Lord Halifax's ill-fated visit to Hitler; Chamberlain's secret negotiations with Mussolini, and the Berlin scandal that rocked Hitler's regime.
He takes us to Vienna, to the Sudetenland, and to Prague.
In Berlin, we witness Hitler inexorably preparing for war; and in London, we watch helplessly as Chamberlain makes one supreme effort after another to appease Hitler.
BIC:
1DBK United Kingdom, Great Britain, 1DFG Germany, 3JJG c 1918 to c 1939 (Inter-war period), HBJD European history, HBLW 20th century history: c 1900 to c 2000